Wheelchair Service for Reliable and Accessible Transportation
The world feels a lot smaller when your mobility is limited. Americ Transit Services understand this struggle intimately. We have dedicated ourselves to bridging the gap, bringing independence and accessibility back into the lives of those needing wheelchair-accessible transportation. Our meticulously designed and wholly reliable wheelchair service ensures that your mobility concerns don't hold you back from leading an active and satisfying life.
NON-EMERGENCY MEDICAL TRANSPORTATION
SENIOR CITIZEN TRANSPORT

HANDICAP TRANSPORT

DISABLED TRANSPORT

STANDING APPOINTMENTS

MEDICAL AND DENTAL APPOINTMENTS

WHEELCHAIR, WALKER, & AMBULATORY TRANSPORT

STRETCHER TRANSPORT

FAMILY EVENTS

CHURCH/SOCIAL FUNCTIONS

AIRPORT, TRAIN, AND BUS STATIONS

HOTEL RESERVATIONS

LONG DISTANCE & ONE-WAY TRANSPORT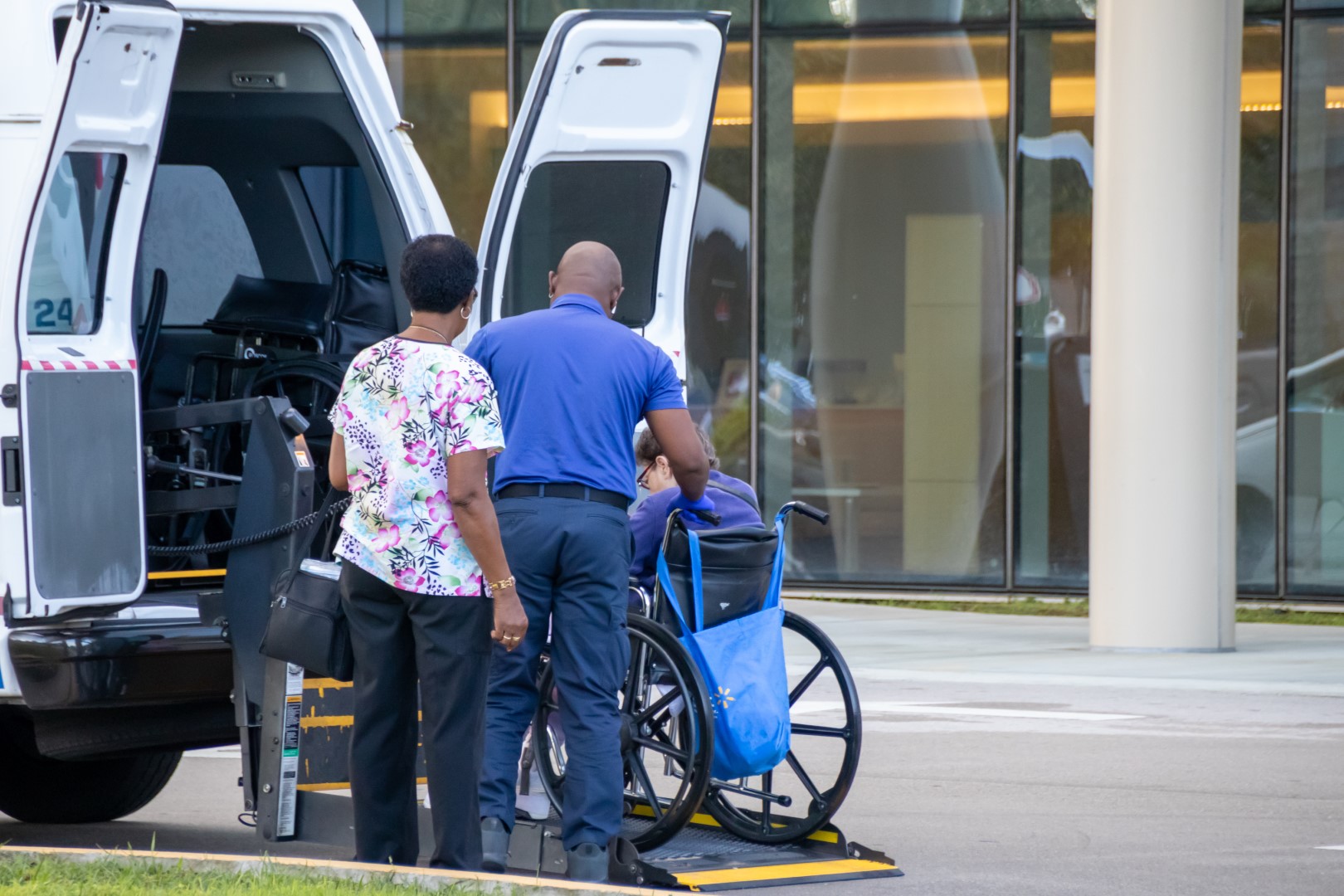 Refer a Client
Americ Transit Services Wheelchair Facilities
At Americ Transit Services, we understand the importance of providing reliable and accessible transportation for individuals with mobility challenges. As part of our commitment to serving all members of the community, we have dedicated wheelchair facilities that cater specifically to the needs of wheelchair users.
Certified Wheelchair Technicians
One of the key aspects that set us apart in providing wheelchair service is our team of certified wheelchair technicians. Our technicians possess specialized knowledge and expertise in maintaining and servicing wheelchairs, ensuring the optimal condition for safe and comfortable transport.
Imagine you or a loved one relies on a wheelchair as a means of mobility, and it's essential to have confidence that the chair is in reliable working order. Americ Transit Services understands this need and takes it seriously, ensuring that their staff possesses the necessary skills to handle any wheelchair-related issues.
Our wheelchair facilities are designed with accessibility in mind. We have ramps and wide doorways to accommodate wheelchairs and ensure smooth entry into our vehicles. The vehicles themselves are equipped with hydraulic lifts or ramps for easy boarding and disembarking. Inside, we have designated spaces for securing wheelchairs safely during transit, ensuring passengers' comfort and safety throughout their journey.
SERVICE AREAS OF AMERIC TRANSIT

Americ Transit Services takes pride in its extensive geographic service scope, ensuring that individuals in need of wheelchair transportation services have access to reliable and accessible services throughout the region. This company goes above and beyond to serve various counties in Georgia, including Fulton, Dekalb, Gwinnett, Clayton, Douglas, Fayette, Henry and Cobb. From bustling cities like Atlanta, Alpharetta, Roswell to vibrant suburban communities such as Kennesaw and Sandy Springs, Americ Transit Services is dedicated to making transportation convenient for its clients.
HOW AMERIC TRANSIT SERVICES IMPROVE ACCESSIBILITY
Americ Transit Services takes great pride in providing reliable and accessible transportation services to individuals with diverse mobility needs. We understand that lack of transportation can be a significant barrier for people with disabilities, medical conditions, or mobility restrictions, preventing them from attending important medical appointments or participating in daily activities. To address this issue, Americ Transit Services offers a specialized wheelchair service, stretcher service and ambulatory service that ensures accessibility for all.
Would you like to make an inquiry? We are only a call away!
Get Started